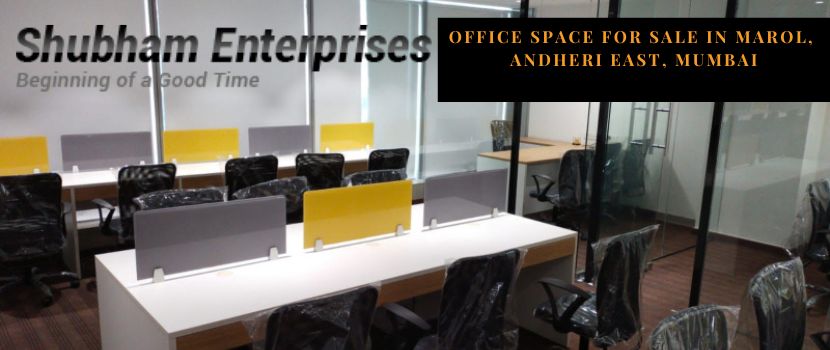 Any business' success depends on selecting the ideal office space. Your choice of office space can have an effect on employee output, client satisfaction, and overall company performance. There are a number of things to take into account before making a final decision if you're thinking about Office sale Marol Mumbai.
Location:
The location of your workplace has a significant impact on the success of your firm. It's critical to consider the accessibility of both your employees and clients when selecting a location. If your staff members commute from various parts of the city, picking a central location might be advantageous. If your office is adjacent to a centre for public transport, it could also make it easier for clients to contact you. Decide on a location that is convenient for all parties concerned after considering how the location of your office may affect your business operations.
Budget:
Take your available money into account when deciding where to locate your office. Along with the price of renting or buying a property, any additional expenses like energy bills, maintenance costs, and parking fees must be considered. Decide how much you can spend before starting your search, and then only look at office buildings that are in your price range. Remember that if money is tight, you might have to forgo some amenities or the ideal location.
Size and Layout:
The layout and size of your office space might have an impact on your employees' morale and productivity. It is crucial to consider how much room is needed for your workers, equipment, and storage. While a room that is cramped may hinder your employees' productivity, a room that is spacious may inspire and put them at ease. Regarding its impact on your daily operations, the office layout should also be taken into account. For instance, if you need enough storage space, look for a workspace with built-in shelving or lots of room for filing cabinets.
Amenities:
The comfort and convenience of your staff members may greatly vary depending on the amenities offered in your office space. Including amenities like a conference room, break area, and parking space in your office space can significantly increase employee comfort and output. Employees place a great importance on these comforts. Additionally, to accommodate workers who bike to work, your business might want to think about adding extra amenities like a gym or shower rooms. These extra amenities can improve the working atmosphere even further and improve your staff's general wellbeing.
Security:
The primary consideration when selecting an office site should be security. Locate a job that has alarms, security cameras, and restricted access. You want to ensure the security of both your staff and the company's assets. Also think about how neighbourhood safety might affect your business. It might not be the best place for your workplace if the neighbourhood has a reputation for having a high crime rate.
Lease Agreement:
Make sure to read and comprehend all of the terms and conditions of a lease agreement before signing. Search for any unstated costs or limitations that might affect your company. Additionally, you should be knowledgeable of any penalties associated with early lease termination. Before signing the lease agreement, be certain that you understand it completely. If necessary, seek professional advice.
Consult with a Professional:
You can get assistance through the difficult process of locating and renting an office space by speaking with a specialist. You can gain important knowledge and make an educated choice with the aid of a real estate agent or a lawyer. They can also aid in lease negotiations and make sure you obtain the finest available terms.
Choosing an office sale in Marol necessitates careful consideration of a number of variables, to sum up. You can locate an office space that satisfies your business requirements and promotes your total success by taking into account the location, budget, size and layout, amenities, security, lease agreement, and professional advice. Never forget to take your time and carefully consider each element before making a final choice. You can draw in and keep staff, wow clients, and eventually expand your firm with the aid of a carefully arranged office space.